News in 2019

FIG Young Surveyors Regional Events
During the second half of 2019 two Young Surveyors regional events were held - in Europe and in Africa.
6th YSEM - 11-12 October 2019 in Porto, Portugal
The success of previous FIG Young Surveyors events have paved the road to yet another collaboration of Young Surveying Students and Young Professionals.
The 6th Young Surveyors European Meeting was held in the beautiful city of Porto, Portugal on the 11th and 12th of October 2019. About 40 keen young professionals and students from 15 countries gathered together to share and explore new ideas, address pressing issues and focus on the future development for the European YS Network.
The future of Young Surveyors, as professionals as well as individuals, in mapping the path to sustainability was the focus of this meeting.
To continue the charity purposes of these kind of events we organized a charity Walking tour where the funds reverted to FIG Foundation and Forestis, a local non-profit.
2nd YSAM - 25-26 November 2019 in Dakar, Senegal
Following the successful 6th FIG Young Surveyor's European meeting, the FIG Young Surveyors Africa held its second meeting together with the newly formed Federation of Francophone Surveyors' (FGF) Young Surveyors Network. The bilingual meeting successfully brought together over 50 young surveyors from about 20 countries in the francophone and anglophone world.
With 10 years to meet the SDGs, the meeting held under the theme, "Connecting the Generations for Our Common Future", highlighted the continued link between the young and seasoned surveyors, as well as the contribution of young surveyors to meeting the global sustainable development agenda through the SDGs. There were presentations from a cross section of young surveyors and FIG partners, as well as group activities that, not only served to brainstorm the young surveyor's role in the global development agenda within the African context and on the Global scale, but also served as an environment for Young Surveyors from different countries and cultures, with different academic and professional backgrounds to discuss issues facing the region, and plan for a more resilient future. All this took place in the warm atmosphere of Dakar, Senegal, where young surveyors enjoyed the legendary Senegalese hospitality, Teranga.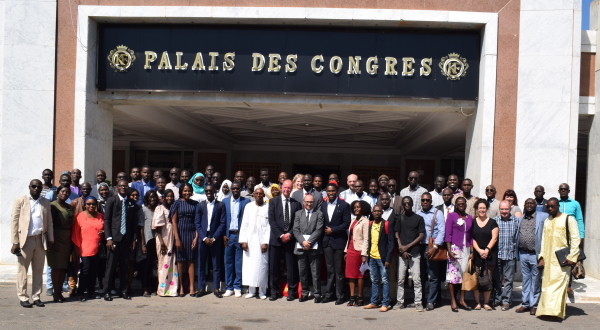 Dakar Senegal
December 2019