FIG Council
Volunteering for the Future
Council
The Council is elected by the General Assembly. The Council consists of the President of FIG and four Vice Presidents. The President and two Vice Presidents are elected at the General Assembly during the Congress year and two remaining Vice Presidents at the General Assembly two years after the Congress. The Presidents are coming from different countries throughout the world. In addition commission chairs appoint their representative to the Council.
President

Prof Dr Rudolf Staiger (2019-2022), Germany

Vice Presidents

Dr Diane Dumashie (2019-2022), United Kingdom
Prof Dr Jixian Zhang (2019-2022), China PR
Mr Mikael Lilje (2021-2024), Sweden
Mr Kwame Tenadu (2021-2024), Ghana

ACCO Representative in the Council

Prof. Dr. -Ing. Hartmut Müller, Germany, Chair FIG Commission 3 (2021-2022)
Ms Winnie Shiu, Hong Kong SAR, China, Chair, FIG Commission 1 (2019-2020)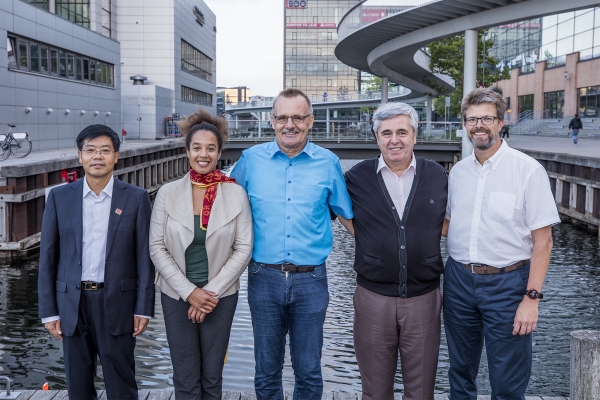 FIG Council 2019-2020. From left Vice President Prof. Dr. Jixian Zhang, China, Vice President Diane Dumashie, United Kingdom, President Prof. Dr. Rudolf Staiger, Germany, Vice President Orhan Ercan, Turkey (2017-2020) and Vice President Mikael Lilje, Sweden.
©2022 FIG