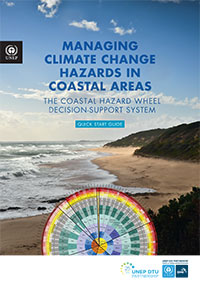 The Coastal Hazard Wheel is published by the UNEP-DHI partnership and is developed to support coastal decision-making at all management levels and address the challenge of coastal climate change adaptation. It is based on a universal coastal classification system and functions as a key for classifying a particular coastal location, determining its hazard profile, identifying relevant management options and communicating coastal information. The Coastal Hazard Wheel App provides global coastal classification data in low-moderate quality and high quality national classifications will become gradually available as various classification projects are implemented.
http://www.coastalhazardwheel.org/
This publication is primarily designed to allow a range of stakeholders in developing countries to understand the overall Fit-For-Purpose approach and to recognize the benefits of adopting this approach. The Fit-for-Purpose solutions provide opportunities for land administration systems to deliver benefits, including secure tenure rights, to a wide range of stakeholders within a relatively short time and for relatively affordable costs in a flexible manner. It provides structured guidance on building the spatial, legal and institutional frameworks in support of designing country-specific strategies for implementing FFP land administration. It contains the analysis and operational advisory guidelines to implement the approach. Authors of the Guide are Stig Enemark, Robin McLaren and Christiaan Lemmen and it is published by UN-Habitat/GLTN and Dutch Kadaster.
The publication examines the causes of informal housing development in South-East Europe and assesses the Government's policies to address this issue.
Over the last 25 years, informal settlements have become an increasingly important and urgent matter in the region. At an international conference in 2007, it was estimated that more than 50 million people lived in informal settlements in 20 member States of the UNECE. In 2009, the ECE Committee on Housing and Land Management published a first study on informal settlements: Self-Made Cities: In Search of Sustainable Solutions for Informal Settlements. This publication continues the discussion opened by the previous study. This report, Formalizing the Informal: Challenges and Opportunities of Informal Settlements in South-East Europe examines the causes of informal housing development in five countries of South-Eastern Europe – Albania, the Republic of Cyprus, Greece, Montenegro and the former Yugoslav Republic of Macedonia, and assesses the governments' policies to address this challenge. Based on this assessment, the study makes policy recommendations to these five countries' governments. It also contains lessons learned and best practices that can be applied throughout the UNECE region.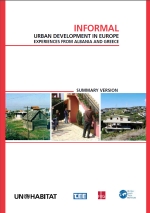 Informal development is not a novel issue for Europe. The southern part of the region has long experience in dealing with this problem. Rapid economic and political change in the European region during the last twenty years has resulted in rapid population increase in many urban centers, mainly due to immigration of rural poor searching for job opportunities and better living conditions, or of internally displaced people. Increasing unplanned or informal suburban development has become an issue of major importance particularly in the transition countries.